HoBSoft's methodology and quality control ensures that you have a well organized file structure in which it is well known where your various files are.
HoBSoft uses the reliable file structure to help the system administrator of the main studio to optimize the backup routines.
Overview
A file structure for an animated feature film often consists of several millions of files in about one hundred thousand folders taking up several Terabytes of data on your file server.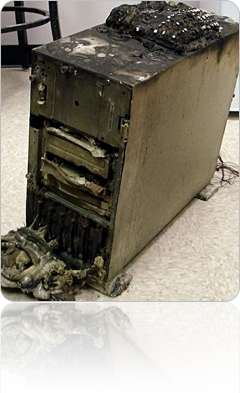 Backup, backup, backup. Computer remains after a fire. It is a telephone on the top. Picture from Creative Commons
It is a core functionality of HoBSoft to ensure that you have a well organized file structure.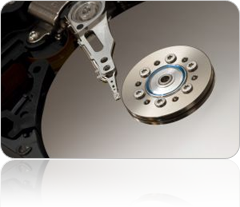 Harddisk platter and actuator arm. Picture from Creative Commons
We use HoBSoft's reliable file structure to differentiate the importance of your various data and back them up at different frequencies.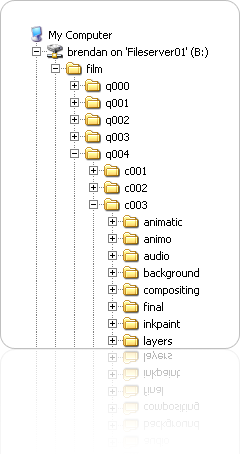 Example of a well organized a HoBSoft file structure.
It is for example very important to back up your compositing setups but less important to backup the rendered output since it is relatively easy to recreate.
This means that we can back up a few Gigabytes of setups frequently (for example daily) but back up several Terabytes of rendered output less frequent (for example weekly).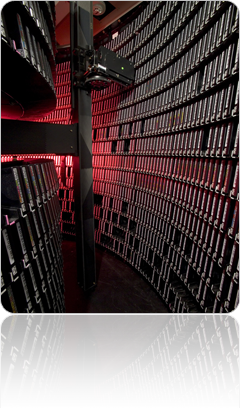 With today's internet connections it is becoming more and more realistic to outsource backup to online services that are specialized in safe storage. On the picture is a tape robot from a very large facility. Picture from Creative Commons
Restoring data from HoBSoft mirrors
Our mirror technologies may never be used as a substitution for real backups. However – in real life - most data are restored by reloading the resources from the HoBSoft head quarter, or one of the other mirrors, to the local mirror because it is incredibly easy to do with just a few clicks in the production system for those who have the necessary privileges.