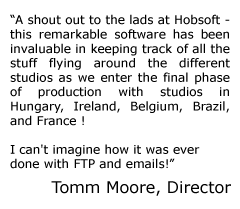 HoBSoft production systems automate labour intensive processes which are part of the production of animated feature-length films, TV-series or live action productions which incorporate high levels of CGI. Newly improved, Version 4, offers innovative functionality which is unique to HoBSoft systems. contact us for a quote.

The price of HoBSoft is based on the level of service and support required by your production. The base price of the system is €38,000 per production and includes the production system with standard automation, workflows, reliable filestructure and integration with your editing.
The final price is comprised of the base price plus the cost of supplementary services required by your specific production. You only need to purchase the services which are specifically required by your production.
contact us for a quote.